During the KADOKAWA Light Novel EXPO 2020 event, a new promotional video was revealed for the animated adaptation of the light novels written by Asato Asato and illustrated by Shirabi, 86: Eighty-Six. The video confirms that the series has dated its premiere in Japan for next April 10.
The press release also revealed a new promotional image for this animation project.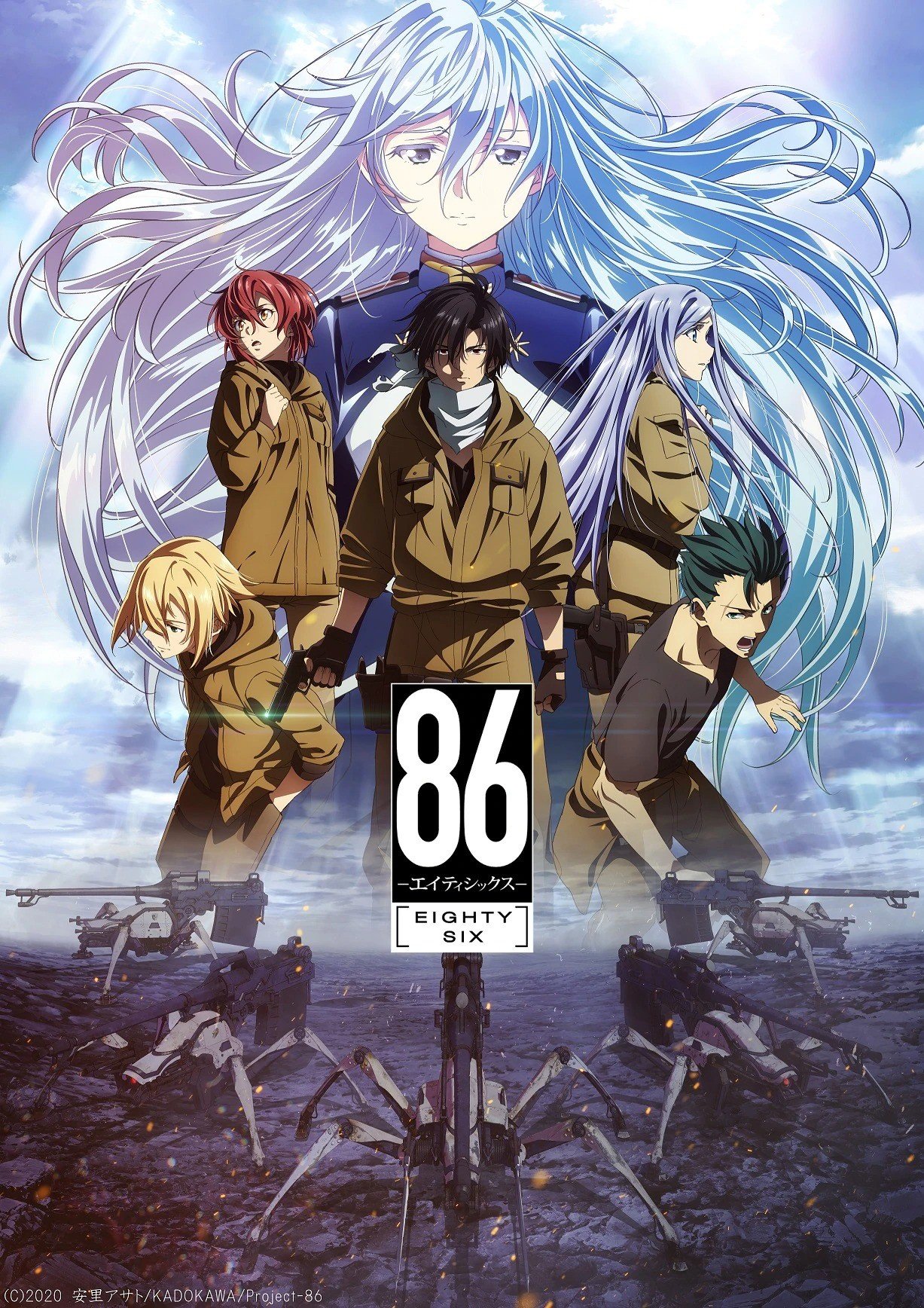 For its part, Asato Asato began publishing the light novels in April 2017 through Kadokawa's Dengeki Bunko publishing house. Shirabi (Musaigen no Phantom World) and artist I-IV (Aldnoah.Zero, Re: Creators) were in charge of the illustrations. The eighth volume was published on May 9.
Cast of voices
Ikumi Hasegawa as Vladilena Mirizé.
Shouya Nouzen as Shinei Nouzen.
Ikumi Hasegawa as Vladilena Milizé.
Shouya Chiba as Shinei Nouzen.
Natsumi Fujiwara as Theoto Rikka.
Saori Hayami as Anju Emma.
Sayumi Suzushiro as Kuren Kukumila
Haruka Shiraishi as Kaie Tanya.
Haruki Ishiya as Daiya Irma.
Daiki Yamashita as Haruto Keats.
Taishi Murata as Kujo Niko.
Shinei Ueki as Rui Kino.
Masamu Ono as Chise Osen.
Production team
Toshimasa Ishii (Uchū Kyōdai, Boku dake ga Inai Machi, Occultic; Nine) is directing the anime at A-1 Pictures Studios, with Shirogumi Studios in charge of CG animation.
Toshiya Ono (Yakusoku no Neverland, Hōseki no Kuni, Ao no Exorcist: Kyoto Fujō Ō-hen) is in charge of writing and supervising the scripts.
Tetsuya Kawakami (Demi-chan wa Kataritai, Robot Girls Z, Gakusen Toshi Asterisk) is in charge of character design.
Hiroyuki Sawano and Kohta Yamamoto are in charge of composing the soundtrack.
Hitorie performs the opening song titled "3-bun 29-byou (3 Minutes 29 Seconds)", while SawanoHiroyuki [nZk]: mizuki performs the closing song titled "Avid".
Synopsis for 86: Eighty-Six
The Republic of Saint Magnolia.
This country has long been under siege by its neighbor, the Giadian Empire, which created a series of unmanned drones called the Legion. After years of painstaking research, the Republic finally developed its own autonomous drones, turning the one-sided fight into a casualtyless war – or at least, that's what the government claims.
In truth, there is no bloodless war. Beyond the walls that protect the eighty-five territories of the Republic is the "nonexistent" "Eighty-Six Sector". The young men and women of this forsaken land are branded as "The Eighty-Six" and, stripped of their humanity, lead the "unmanned" weapons into battle …
Shinn directs the actions of a detachment of Eighty-Six youths on the battlefield. Lena is a "manipulator" who commands the detachment from the remote rear with the help of special communication. The farewell story of the severe and sad fight of these two begins!