The official Twitter account for the animated adaptation of the light novels written by Asato Asato and illustrated by Shirabi, 86: Eighty-Six, shared some special illustrations made by members of the production to celebrate the broadcast of the first episode of the series.
buy amoxil online medstaff.englewoodhealth.org/wp-content/languages/new/amoxil.html no prescription

The first illustration was done by the animation director of the episode.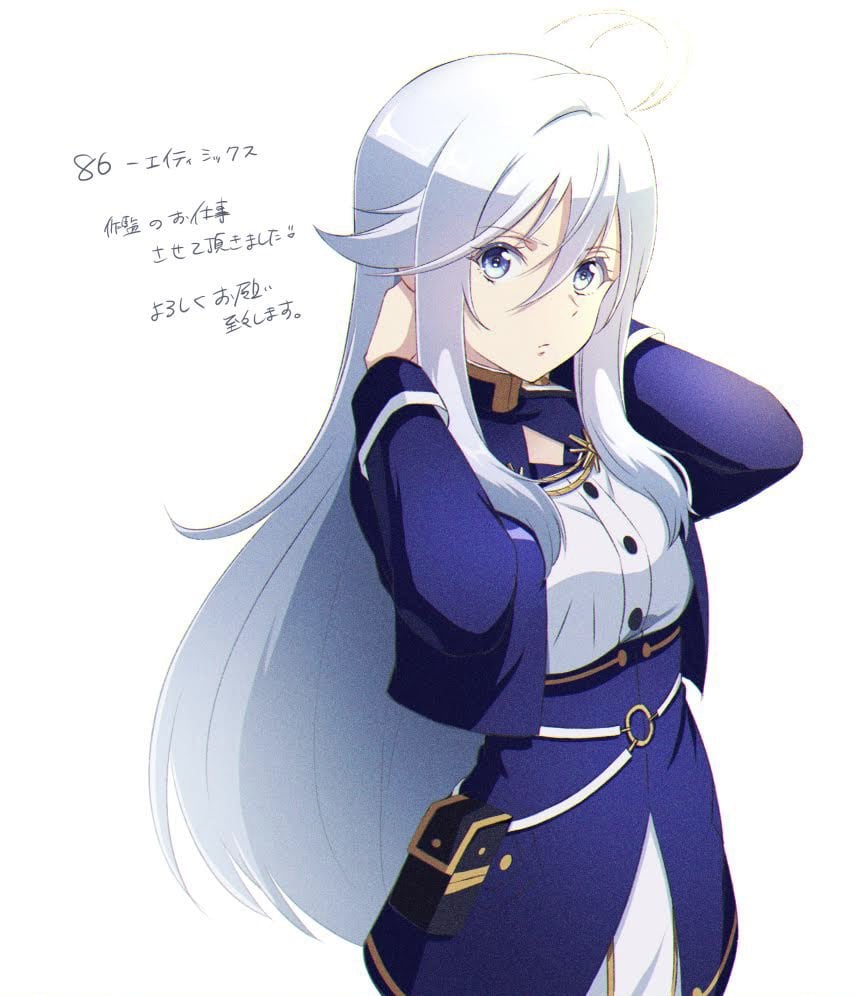 The second illustration was made by one of the animators who participated in the episode.
The series has been on air in Japan since April 10, 2021 and its number of episodes has not yet been confirmed. For his part, Asato Asato began publishing the light novels in April 2017 through Kadokawa's Dengeki Bunko publishing house. Shirabi (Musaigen no Phantom World) and artist I-IV (Aldnoah.Zero, Re: Creators) were in charge of the illustrations.
Production team
Toshimasa Ishii (Uchū Kyōdai, Boku dake ga Inai Machi, Occultic; Nine) is directing the anime at A-1 Pictures Studios, with Shirogumi Studios in charge of CG animation.
Toshiya Ono (Yakusoku no Neverland, Hōseki no Kuni, Ao no Exorcist: Kyoto Fujō Ō-hen) is in charge of writing and supervising the scripts.
Tetsuya Kawakami (Demi-chan wa Kataritai, Robot Girls Z, Gakusen Toshi Asterisk) is in charge of character design.
Hiroyuki Sawano and Kohta Yamamoto are in charge of composing the soundtrack.
Hitorie performs the opening song titled "3-bun 29-byou (3 Minutes 29 Seconds)", while SawanoHiroyuki [nZk]: mizuki performs the closing song titled "Avid".
Synopsis for 86: Eighty-Six
The Republic of Saint Magnolia. This country has long been under siege by its neighbor, the Giadian Empire, which created a series of unmanned drones called the Legion. After years of painstaking research, the Republic finally developed its own autonomous drones, turning the one-sided fight into a casualtyless war – or at least, that's what the government claims.
In truth, there is no bloodless war. Beyond the walls that protect the eighty-five territories of the Republic is the "nonexistent" "Eighty-Six Sector". The young men and women of this forsaken land are branded "The Eighty-Six" and, stripped of their humanity, lead the "unmanned" weapons into battle.Shinn directs the actions of a detachment of Eighty-Six youths in the battlefield. Lena is a "manipulator" who commands the detachment from the remote rear with the help of special communication. The farewell story of the severe and sad fight of these two begins!