On the official site for the animated adaptation of the manga written and illustrated by Kohei Horikoshi, Boku no Hero Academia (My Hero Academia), the third promotional video for the fifth season of the project was published. The video shows an excerpt from the opening song titled "No.1" performed by DISH, and confirms that The Peggies will perform the closing song titled "Ashiato".
The series has its premiere scheduled for next March 27 on television in Japan, with the Crunchyroll platform in charge of its international distribution, including Latin America. For his part, Horikoshi began publishing the manga in Shueisha publisher's Weekly Shonen Jump magazine in July 2014.
Production team
Masahiro Mukai (Choujigen Game Neptune The Animation, Trickster: Edogawa
Ranpo "Shounen Tanteidan" yori) and Kenji Nagasaki (Classroom ☆ Crisis, Gundam Build Fighters) are directing the anime at Bones Studios.
Yousuke Kuroda (2.43: Seiin Koukou Danshi Volley-bu, Battle Girl High School,
Gundam Build Fighters) is in charge of writing and supervising the scripts.
Hitomi Odashima (Ao no Exorcist) and Yoshihiko Umakoshi (Hana yori Dango) are handling the character designs.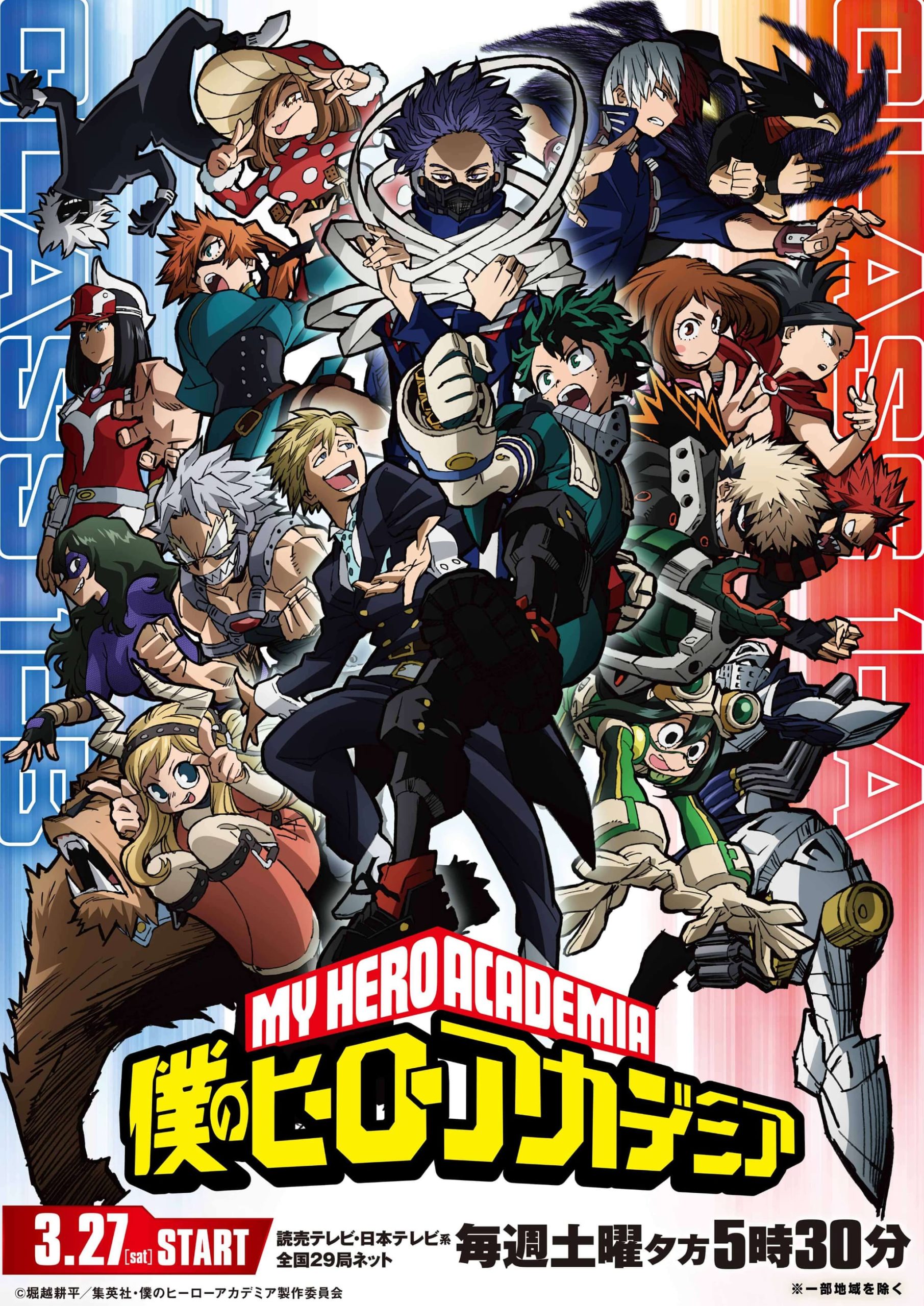 Boku no Hero Academia Synopsis
The emergence of "Quirks", newly discovered superpowers, has steadily increased over the years, and 80 percent of humanity possesses various abilities, from manipulating elements to shapeshifting. This leaves the rest of the world completely powerless, and Izuku Midoriya is one of those individuals.
Ever since he was a child, the ambitious high school student has wanted nothing more than to be a hero. Izuku's unjust fate leaves him admiring heroes and taking notes on them whenever he can. But it seems his persistence has paid off some fruits: Izuku meets hero number one and his personal idol, All Might. All Might's Quirk is a unique ability that can be inherited, and he has chosen Izuku as his successor!
After enduring many months of grueling training, Izuku enrolls in UA Academy, a prestigious preparatory school famous for its excellent hero training program, and this year's freshmen look especially promising. With his strange but talented classmates and the looming threat of an evil organization, Izuku will soon learn what it really means to be a hero.