On the official website for adaptation to the anime of the manga written Riichiro Inagaki by and illustrated by Boichi, Dr. Stone, a new promotional video was released for its second season, which is also known as Dr. Stone: Stone Wars. In addition, it was revealed that the series will premiere on January 14, 2021 on Japanese television stations as well as various streaming services globally.
a new visual was also revealed for the series.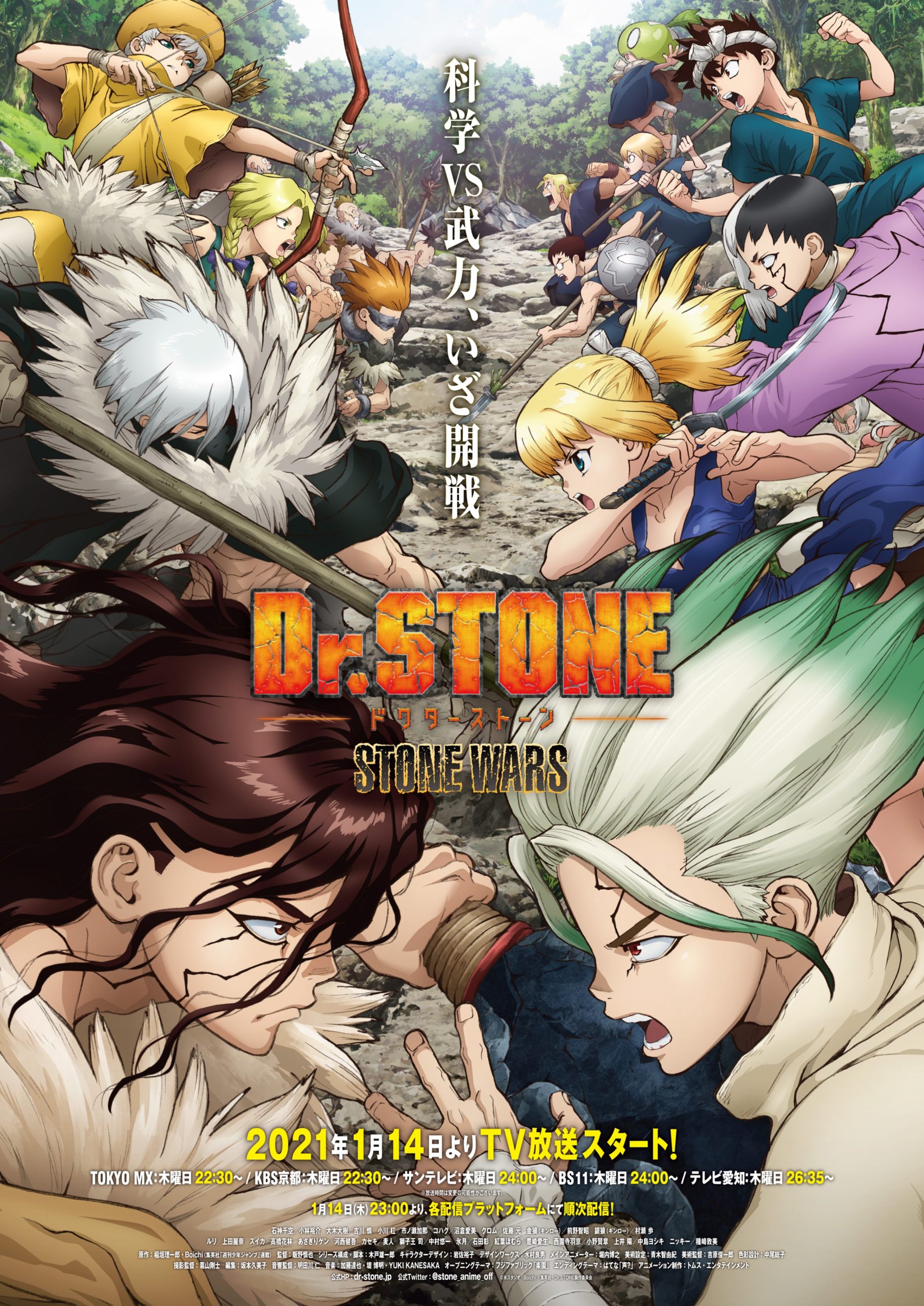 Inagaki and Boichi began publishing the manga in Weekly Shonen Jump of Shueisha in March 2017.
Voice cast
Yusuke Kobayashi as Senkuu Ishigami.
Satou gene as Chrome.
Manami Numakura as Kohaku.
Yuichi Nakamura and Tsukasa shishou.
Makoto Furukawa as Taiju Ooki.
Kengo Kawanishi as Asagiri Gen.
Karin Takahashi as Suika.
Kana Ichinose as Yuzuriha Ogawa.
Kensho Ono as Ukyo Saionji
Yoshiki Nakajima as I Uei
Atsumi Tanezaki as Nikki Hanada
Production team
Shinya Iino is in charge of the direction of the anime in studies TMS Entertainment.
Yuuichirou Kido is responsible for writing and supervising the scripts.
Yuko Iwasa is in charge of character design.
Tatsuya Katou handles the composition of the soundtrack directed sound Jin Aketagawa.
The opening theme will be played by the band Fujifabric and "Paradise" will be called.
The closing theme will be played by HATENA and "Voice?" Will be called.

Synopsis Dr. Stone
One fateful day, all mankind was petrified by a flash of blinding light. After several millennia, Taiju school student wakes up and finds himself lost in a world of statues. However, it is not alone; his friend, lover of science, has been working for a few months and has a great plan in mind: to launch civilization with the power of science!