Health
Exercises that can help you burn a lot of calories, even while watching TV
At first glance, we may believe that calories cannot be burned effectively while watching television, but this is not the case. There are some effective exercises that are easy to do at home, which we can carry out without the need for any special equipment.
We want you to be in good shape, so we would like to suggest a few good exercises that you can do while enjoying your favorite sets. At the end of this article you will also find a very useful bonus.
1. Exercise by lowering the palms of the hands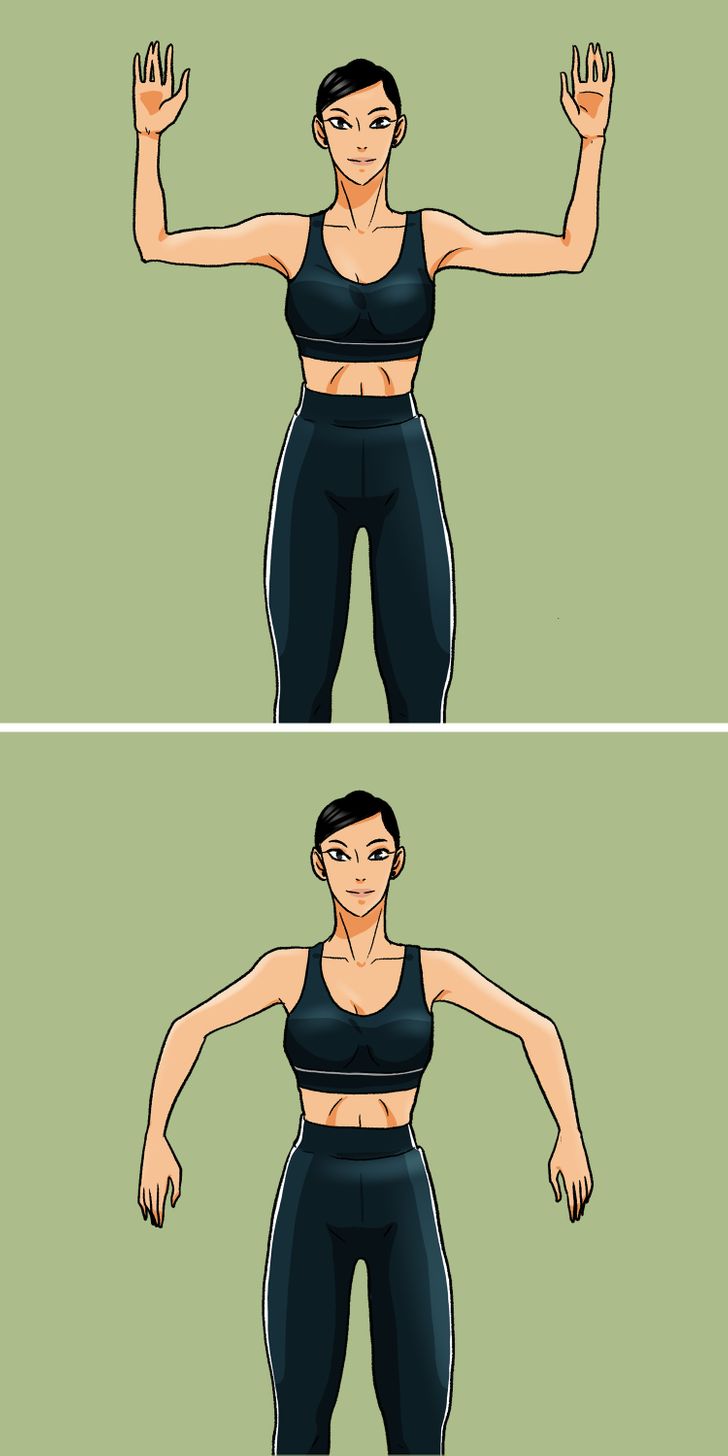 This exercise can help you burn fat around your arms. It is very easy to do, even in front of the TV.
Stand straight, feet about shoulder-width apart.
Raise your arms out to the sides.
Keep your forearms perpendicular to your upper arms. These should be taut. Don't move or shrug your shoulders.
Lower your shoulder blades and bring them together.
Begin to raise and lower your palms by rotating your elbows.
Breathe easy.
Repeat for 45 to 60 seconds.
2. A variation of the chest opening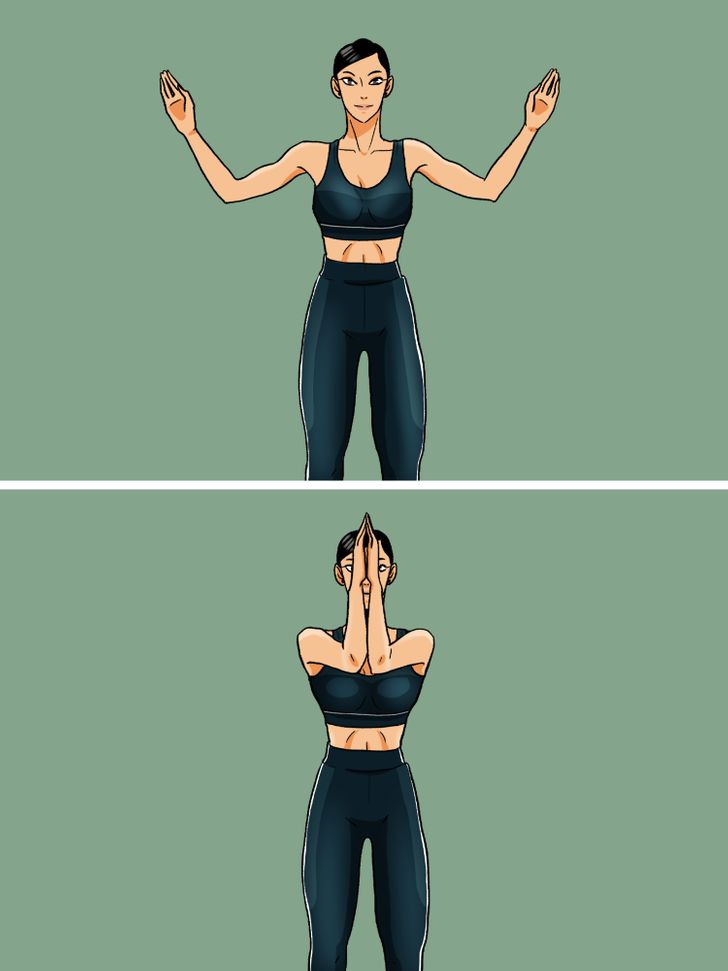 To maximize the effect of the previous exercise and see results even faster, do the following:
Stand straight, feet about shoulder-width apart.
Raise your arms to the sides and bend them, making a 90 ° angle at the elbows.
Bring your forearms together in front of you and then bring them back to their original position.
Keep pulling them together and returning to the original position. Your arms must maintain tension.
Repeat for 45 to 60 seconds.
3. Knees up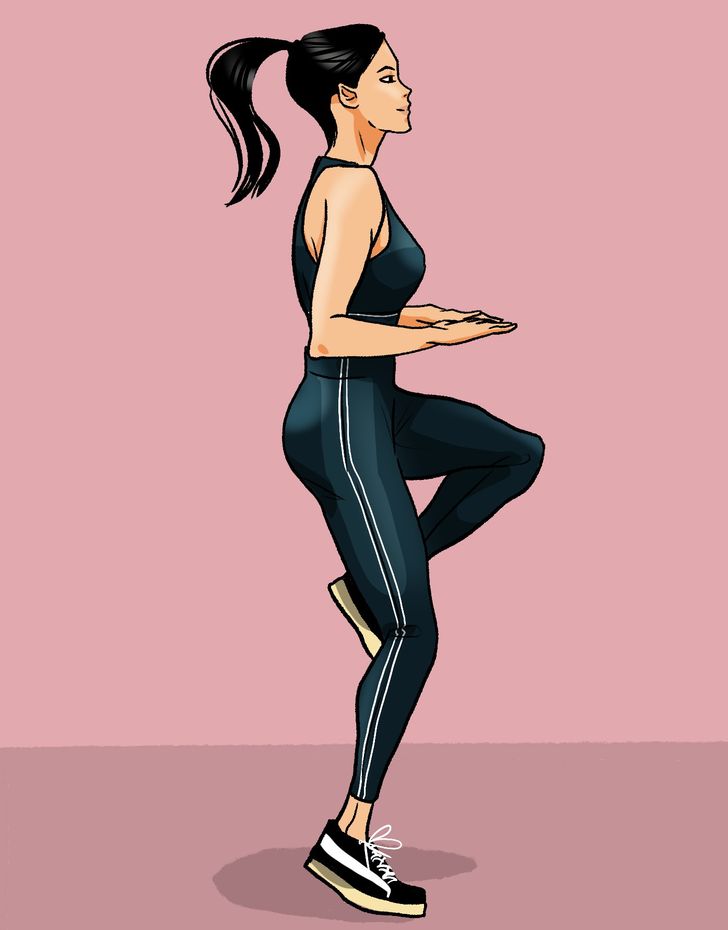 Raising the knees is an intensive cardio exercise that strengthens all the muscles in the legs, as well as increases the heart rate and improves momentum and coordination.
Stand straight with your feet about the width of your hips apart.
The hands should be in front of you, with the elbows bent and with the palms facing down.
Keep your chest up.
Start running in place quickly, but smoothly, bringing your knees up toward your pecs.
Keep doing it as long as you want.
4. Squats with a chair

The chair squat exercise is very effective for your glutes, hip flexors, and quadriceps.
Put a chair behind you.
Your feet should be about shoulder-width apart, and your toes should be facing forward.
Your back must remain straight.
Begin to squat slowly, bending your knees and pushing your hips back. Squeeze your glutes. Keep your chest and head up.
Get to touch the chair with your glutes and return to the starting position.
Beginners can do a set of 8-10 reps. Later you can do up to three sets of between 10 and 12 repetitions.
According to various research, people can burn up to 20% more body fat if they exercise in the morning, when they are fasting. Scientists found that those who trained at that time of day did not consume additional calories and did not experience an increase in appetite throughout the day.
Do you know of any other effective exercises that can be done while watching television? Do you prefer to train in the morning or at night?