Various comment forums in Japan distributed information threads noting that the animated adaptation of the manga written and illustrated by Kousuke Oono, Gokushufudou (The Way of the Househusband), has been censored in its broadcast for China. The main concept that has been removed were the tattoos of the protagonist.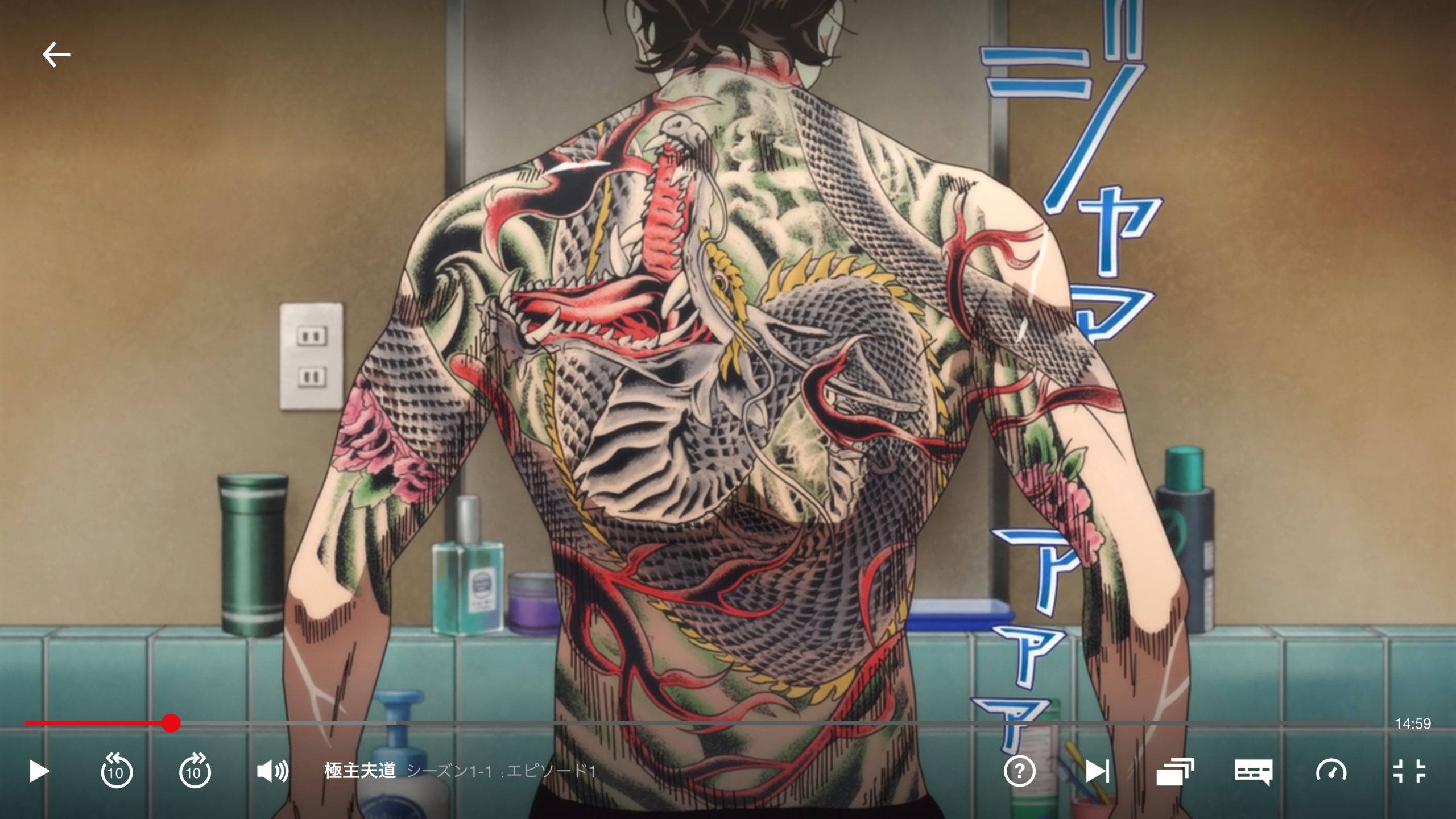 "Variety shows in China have been forced to put censorship tiles on their artists' tattoos, but I find it quite disgusting that the same thing happened in anime. In this season's series, "Gokushufudou," the protagonist's tattoos were completely removed in the Bilibili broadcast. Now the protagonist is nothing more than an old man with a scared face. (On the left Netflix, on the right Bilibili)".
中国 の バ ラ エ テ ィ 番 組 は 前 か ら 出演 者 の タ ト ゥ ー に モ ザ イ ク を か け た り す る け ど, ア ニ メ も そ う な っ て い た の は ち ょ っ と 苦笑 し て し ま う. 今 期 の 「極 主 夫 道」 ビ リ 動 版 で は 主人公 全身 の 入 れ 墨 は見 事 に 除去 さ れ た。 こ れ じ ゃ た だ 顔 つ き が 怖 い お っ さ ん じ ゃ な い か っ て つ っ こ み た く な る
← Netflix 版 ビ リ 動 版 → pic.twitter.com/blIzKmPY0Z
– 八 子 (@ hathiko8) April 10, 2021
"The Chinese broadcast of the Gokushufudou anime has been completely censored, removing all of the protagonist's tattoos and simply turning him into an ugly-faced old man to laugh at. This seems like an exaggeration speaking of censorship to me, but it is not surprising coming from China. What amazing clinic did the protagonist have gone to to remove all that? (On the left Bilibili, on the right Netflix)".
中国 配 信 版 の 「# 極 主 夫 道」 ア ニ メ が 入 れ 墨 全 修正 さ れ, 主人公 が た だ の 痛 い お っ さ ん に な っ て し ま う, と 笑 い の 種 に さ れ て い る. こ れ も う 修正 の レ ベ ル じ ゃ な く て, 制作 段 階 か ら 中国向 け に す る ん だ ろ う な。 ど こ の 美容 ク リ ニ ッ ク に 通 っ て い る か ね。 pic.twitter.com/HVLCgnRYgQ
– 敏 度 🅰️ (@Abalamindo) April 9, 2021
The series premiered on the Netflix platform globally on April 8, with a total of five episodes with dubbing in multiple languages ​​and shortly after confirming the production of a second part. For its part, Oono publishes the manga to through Shinchosha publishing house's digital service Kurage Bunch since February 2018. The publisher published the fifth compilation volume on June 9 in Japan, followed by the sixth on November 9.
Production team
Chiaki Kon (Back Street Girls: Gokudolls, Bishoujo Senshi Sailor Moon Eternal Movie 1, Golden Time, Higurashi no Naku Koro ni) is directing the anime at J.C. STAFF Studios.
Susumu Yamakawa (Back Street Girls: Gokudolls, Maiko-san Chi no Makanai-san) is in charge of writing and supervising the scripts.
Gokushufudou Synopsis
"Tatsu the Immortal," the legendary yakuza who single-handedly defeated a rival gang with a lead pipe, is a name known for instilling fear in both the toughest policemen and the most dangerous criminals. Shortly after his sudden disappearance, he reappears with a slight career change.
buy viagra professional online https://www.mydentalplace.com/wp-content/themes/twentytwelve/inc/en/viagra-professional.html no prescription

Now equipped with an apron, Tatsu has renounced violence and is honestly trying to make a living as a householder.
buy eriacta online https://www.mydentalplace.com/wp-content/themes/twentytwelve/inc/en/eriacta.html no prescription

While adjusting to mundane housework, Tatsu discovers that being a homemaker has its own challenges, from the battlefield known as supermarket sales to kitchen failures. Despite living in peace, misunderstandings seem to follow him from left to right. Gokushufudou follows the comically serious ex-yakuza's everyday life as he leaves his dangerous former life behind to become a stay-at-home husband.