On the official site for the animated adaptation of the manga written and illustrated by Aka Akasaka, Kaguya-sama: Love is War (Kaguya-sama wa Kokurasetai: Tensai-tachi no Renai Zunousen), a new promotional video for the upcoming OVA of the project, which will be included in the special edition of the manga's twenty-second compilation volume, scheduled for May 19 in Japan.
┏━━━━━━┓
💕 最新 PV 公開 💕
┗━━━━━━┛
『# か ぐ や 様 は 告 ら せ た い?
~ 天才 た ち の 恋愛 頭 脳 戦 ~ 』
\ ア ニ メ DVD 同 梱 版 第 22 巻 /
✨ 2021 年 5 月 19 日 発 売 ✨
▶ 収録 内容
『か ぐ や 様 ダ ー ク ネ ス volume1』
『か ぐ や 様 ダ ー ク ネ ス volume2』
『か ぐ や 様 は 食 べ さ せ た い』 # か ぐ や 様
– ア ニ メ 「か ぐ や 様 は 告 ら せ た い」 公式 (@anime_kaguya) May 7, 2021
This OVA will adapt the two chapters of the story Kaguya Wants to be Confessed to Darkness (か ぐ や 様 ダ ー ク ネ ス) that cover chapters 64.5 and 83.5; as well as the story Kaguya Wants Him to Eat (か ぐ や 様 は 食 べ さ せ た い) that covers chapter 96.
Kaguya Wants to be Confessed to Darkness: "Part 1. Yuu Ishigami complains about fan-service while the girls take a bath"
"Part 2. Yuu Ishigami and Miyuki Shirogane give their opinion on an adult magazine".
Kaguya Wants Him to Eat: "The Student Council holds a fried rice preparation competition, with Chika Fujiwara and Miko Iino being the judges."
Finally, the announcement also included a new promotional image for this three-episode OVA.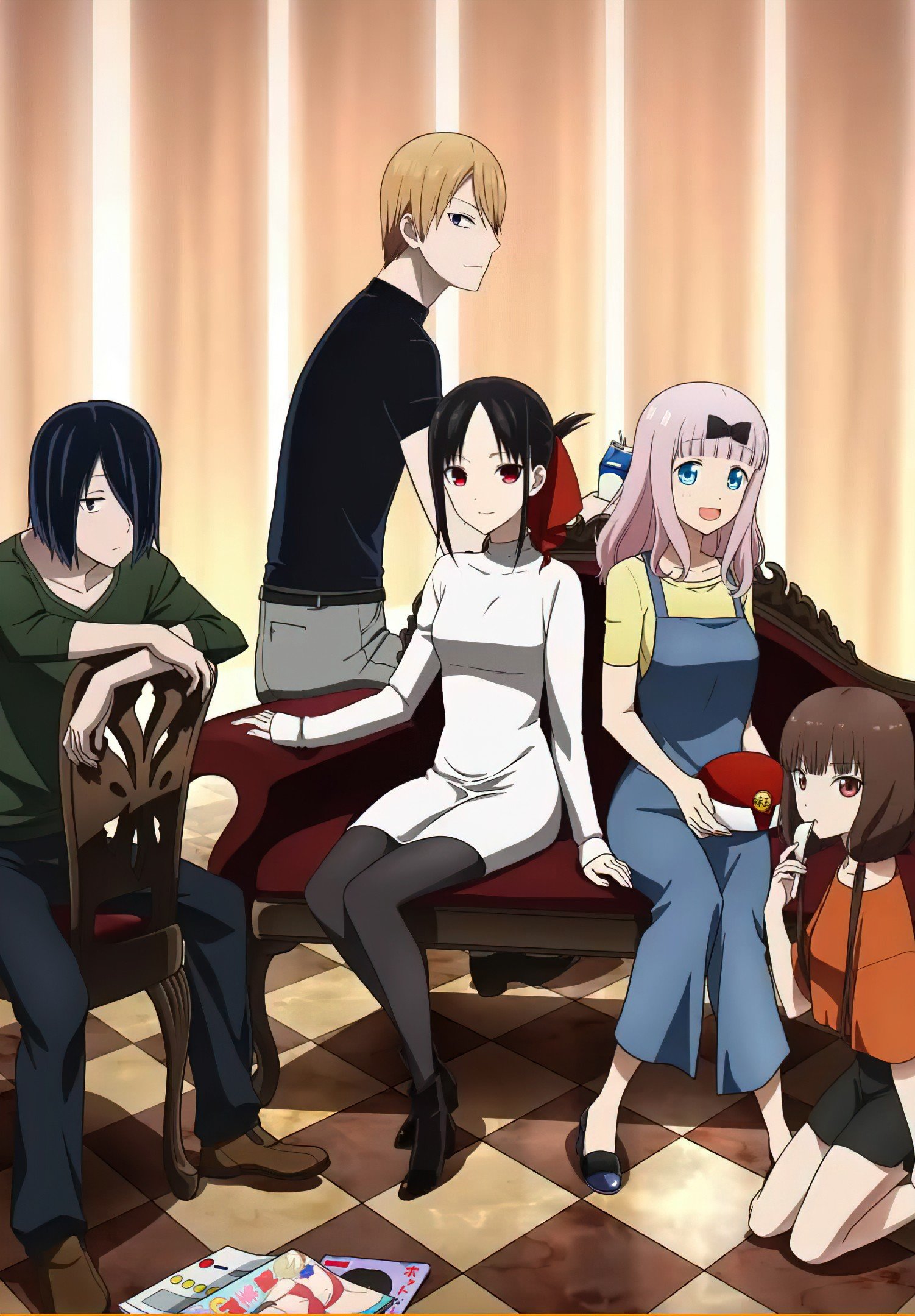 Furthermore, Akasaka began publishing the manga in Shueisha publisher's Miracle Jump magazine in May 2015, and moved it to Weekly Young Jump magazine in 2016. The publisher published the 21st compiled volume in February 2021, and will publish the twenty-second on May 19 in Japan. The work already has 15 million copies in circulation.
The work has inspired two anime adaptations released in January 2019 and April 2020, respectively, produced by A-1 Pictures studios. The production of a third season is confirmed, however, no details have been revealed since its announcement.
Kaguya-sama: Love is War Synopsis
At the renowned Shuchiin Academy, Miyuki Shirogane and Kaguya Shinomiya are the main representatives of the student body. Rated the top student in the nation and respected by both her peers and her mentors, Miyuki serves as the student council president. Alongside him, Vice President Kaguya, the eldest daughter of the wealthy Shinomiya family, excels in every field imaginable. They are the envy of all the students, considered the perfect couple.
However, even though both of you have already developed feelings for each other, neither is willing to admit them. The first to confess loses, will be despised and considered the least. With their honor and pride at stake, Miyuki and Kaguya are equally determined to be the ones to emerge victorious on the battlefield of love!