On the official Twitter account for the animated adaptation of the light novels written by Tone Koken and illustrated by Hiro, Super Cub, a special illustration was shared to commemorate the broadcast of the eighth episode of the series. The illustration stars the character Shii Eniwa, who debuted in the previous episode, and was done by Kanitan, who is in charge of the manga adaptation.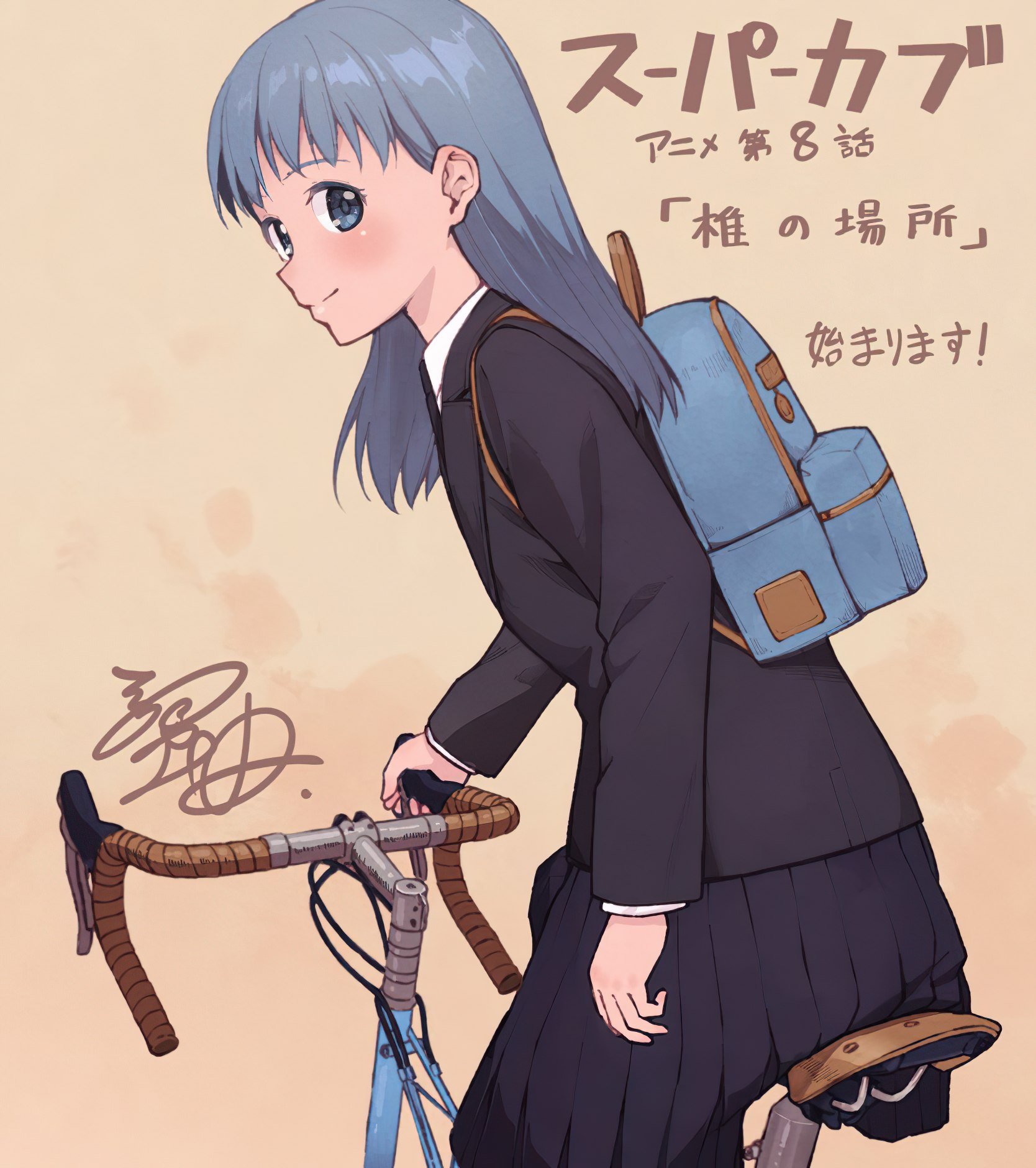 It should be noted that the artist has previously shared illustrations to celebrate the broadcasts of the previous episodes of the series.
On the other hand, the series has been broadcast in Japan since last April 7 and is confirmed with twelve episodes, while the Funimation platform is in charge of its distribution in the West. Koken and Hiro have published the light novels through Kadokawa Publishing's Sneaker Bunko imprint since May 2017. A manga adaptation by Kanitan has been published through Comic Newtype magazine since December 2017.
Production team
Toshirou Fujii (18if, Baby Steps) is directing the anime at Studio KAI (Mushikago no Cagaster, Uma Musume: Pretty Derby (TV) Season 2).
Toshizou Nemoto (Bakuten !!, Inu to Hasami wa Tsukaiyou, Log Horizon) is in charge of writing and supervising the scripts.
Tooru Imanishi (Girly Air Force, Ragnastrike Angels, Shuumatsu Nani Shitemasu ka? Isogashii Desu ka? Sukutte Moratte Ii Desu ka?) Is in charge of character design.
Tomohisa Ishikawa (Appleseed Saga Ex Machina, Innocent Venus, Kurokami The Animation) is in charge of the composition of the soundtrack.
Super Cub Synopsis
Koguma, a reserved sophomore in high school, has nothing: she has no parents, hobbies, friends, or goals. On the way home one afternoon, she visits a vehicle store in hopes of getting a scooter. With just enough money to make ends meet, her price tags put her off and she prepares to return. However, when she is about to leave, the store owner offers her a used Honda Super Cub for ten thousand yen. Believing the motorcycle will help light up her drab world, she accepts the deal. As Koguma travels through her town on little adventures with her Super Cub, she begins to build irreplaceable friendships and enthusiastically moves toward her new life.